09-08-2023
Work Permit in Indonesia: Essential Formalities You Need to Know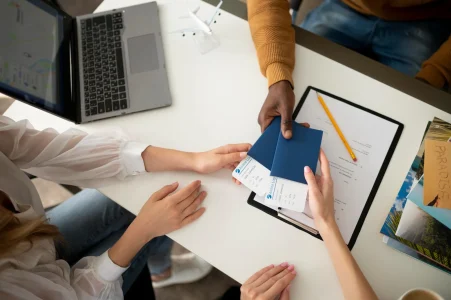 What Foreigners must know for a Work Permit in Indonesia – Indonesia, as the second-largest economy in Southeast Asia, offers a compelling proposition for international business expansion. With a consistent growth trajectory over the past decade, Indonesia is projected to secure the fourth spot in the global economy by 2050.
Any foreign individual intending to work in Indonesia must secure a work permit and work visa sanctioned by the Ministry of Manpower and the Directorate General of Immigration.
Foreigners arriving in Indonesia with the purpose of employment are obligated to obtain a valid work permit to ensure legal employment. Furthermore, they are required to apply for a limited stay permit (VITAS) and the corresponding Electronic limited stay permit (ITAS) from the Indonesian Immigration prior to commencing their work activities.
Conversely, there are instances where travelers enter Indonesia for business-related matters without the intention of generating income. In such cases, the appropriate visa to acquire is the Business Visa, rather than a Work Permit.
For those with distinct circumstances, it is advisable to acquaint themselves with the array of visa options available in Indonesia to identify the one that best aligns with their individual needs.
In the following sections, we will dive deeper into the prerequisites that foreign workers must adhere to in Indonesia and provide insights into the current regulatory landscape of the country.
Definition of Foreign Workers (TKA)
As defined by Law Number 13 of 2003 concerning Manpower, foreign workers (TKA) refer to foreign citizens holding visas with the purpose of engaging in employment within Indonesia.
Requirements for Obtaining a Work Permit in Indonesia
If you're an employer seeking to hire foreign individuals in Indonesia, the Rencana Penggunaan Tenaga Kerja Asing (RPTKA) is the essential work permit to be obtained for your foreign recruits.
To secure a work permit, specific requirements must be met by both the employer and the foreign hire.
For the Employer:
Under Article 3 of MOM Regulation No. 8/2021, an approved list of eligible business entities authorized to employ foreign workers exists. These encompass and are not confined to:
Government agencies, international organizations

Social, religious, educational, and cultural institutions

Entertainment management companies

Foreign private companies

Eligible employers must submit:
Detailed particulars of the employer's identity
Justification for hiring foreign workers

Specifics of the foreign worker's designated position within the organizational structure

Contact information of the employed foreign worker
For the Foreign Hire:
Fulfillment of educational background and qualifications suitable for the position

Possession of competency certificates or at least 5 years of relevant work experience in connection with the applied position

Willingness to impart knowledge and specialized skills to local counterparts

In most industries and roles, there is no specific age requirement for applying for a work permit in Indonesia. However, for the gas and oil sector, the Indonesian Ministry of Energy mandates an age range of 30 to 55 for foreign workers.
This stipulation doesn't extend to higher-level positions such as President Director, General Manager, or Commissioner.
Read more: Full Guide to Starting a Business for Foreigners in Indonesia 2023
Procedure and Required Documents for Acquiring a Work Permit in Indonesia
Prior to applying for an Indonesian Work Permit, other types of visas and permits are necessary for both foreign hires and employers, including:
Expatriate Utilization Plan (Rencana Penggunaan Tenaga Kerja Asing – RPTKA):

The first submission is RPTKA. Companies intending to employ foreign workers must gain formal government approval by submitting RPTKA to the Ministry of Manpower of the Republic of Indonesia.

Working Permit (Izin Mempekerjakan Tenaga Asing – IMTA)

: Following RPTKA approval, companies can apply for IMTA, which includes candidate personal data, gender, passport information, education, and work experience.

Limited Stay Visa (Visa Izin Tinggal Terbatas – VITAS):

With RPTKA and IMTA approval, employers must apply for VITAS through BKPM. Subsequently, BKPM issues a recommendation letter to the immigration department, informing the issuance of VITAS to the foreign employee.

Temporary/Limited Stay Permit (Izin Tinggal Terbatas – ITAS):

Upon arrival in Indonesia, VITAS is converted to ITAS, indicating the immigration status. The Indonesian Immigration Office annually stamps the foreign worker's passport to confirm temporary residence status.

Temporary Stay Permit Card (Kartu Izin Tinggal Terbatas – KITAS):

After ITAS approval, the Indonesian Immigration automatically issues KITAS, an identification card reflecting the foreign worker's ITAS immigration status.

Validity of Work Permit

An Indonesian work permit is valid for a duration of 1 to 12 months, contingent upon the candidate's industry and the sponsoring company's RPTKA.
Various Types of Work Permits in Indonesia
Urgent or Emergency Work Permit: Valid for 1 month, this permit is suitable for urgent and immediate action-required tasks to prevent detrimental consequences for the sponsor company or society.
Temporary Work Permit: This permit's validity ranges from 2 to 6 months, applicable to foreign workers in trading, service, consulting, as well as maintenance and machinery installation sectors.
Long Term Work Permit: The validity extends from 7 to 12 months, typically known as the regular work permit and applicable for higher management roles such as managers, directors, and commissioners.
Is it Possible to Extend an Indonesian Work Visa?
Certainly, it is possible. Initially, you will be granted an Indonesian work visa (KITAS) for a duration ranging from 3 months to one year. It's feasible to extend this period before its expiry date.
After residing in Indonesia continuously for three years, you are eligible to apply for a permanent residence permit (KITAP), which is valid for five years and can be renewed.
Can I Bring My Family Members with an Indonesian Work Visa?
Absolutely, both you and your dependent family members can apply for Indonesian visas, and you will receive your KITAS collectively.
Your employer should apply for their Indonesian visas simultaneously when applying for yours at the Immigration Department in Indonesia.
However, your spouse won't be authorized to work under your dependent status. To work, they need to secure sponsorship (employer) and obtain their individual work permit.
Read more: Choosing The Right Employer of Record Service in Indonesia
Penalties for Foreigners Engaging in Work Without Permits
In our perspective, Foreign Citizens working without Limited Stay Visas or Vitas are committing legal violations.
As a consequence, Immigration Officials possess the authority to take Immigration Administrative Actions against Foreigners present within Indonesian Territory who are involved in risky activities or reasonably suspected of jeopardizing security and public order, or not complying with regulations. These actions may include:
Adding their names to the Exit Ban or Entry Ban list

Restricting, altering, or annulling their Stay Permit

Barring residence in specific locations within Indonesian Territory

Imposing an obligation to reside in a designated place in Indonesian Territory

Imposing fines

Deportation from Indonesian Territory
Furthermore, aside from administrative penalties, there are also legal penalties for foreigners misusing their granted Stay Permits. Article 122 of Law 6/2011 stipulates that:
Foreign Nationals deliberately misusing or engaging in activities contrary to the purposes of their Stay Permit can be sentenced to a maximum of 5 years' imprisonment and fined up to IDR 500,000,000.00.

Individuals inciting or allowing Foreign Nationals to misuse their Stay Permit can also face the same penalties.

According to the mentioned provisions, individuals providing employment to foreigners misusing their Stay Permits or engaging in activities contrary to their permits may also be subject to a maximum of 5 years' imprisonment and a fine of up to IDR 500 million.
In Conclusion
Comprehending work permits in Indonesia and the prerequisites for obtaining them, along with the intricacies of the employer company and the procedure for acquiring a Work Permit and Kitas, is vital.
Meeting the necessary criteria for expatriates and understanding the intricacies of the Work Permit and Kitas application process can be immensely beneficial.
Should you encounter challenges or lack knowledge during the Work Permit and Foreign Worker Visa application process, do not hesitate to reach out to Abhitech.
Abhitech offers comprehensive EOR services in Indonesia, serving as a trusted and experienced formality service provider committed to delivering optimal and efficient services to fulfill your needs for Foreign Work Permits, Visas, KITAS, KITAP, and other immigration-related documents.
Contact Abhitech to secure your work visa & Setup your own Indonesia company with us!