06-09-2023
Indonesia KITAS: Everything You Need to Know in 2023
If you are considering employment or lawful residence in Indonesia, a Limited Stay Permit (KITAS) is a mandatory requirement.
KITAS, which stands for Kartu Izin Tinggal Terbatas, grants individuals the authorization to reside in Indonesia for a maximum duration of 12 months, extendable if necessary.
A KITAS is obtained through the application process for various long-term visas in Indonesia, including work visas, retirement visas, spouse/family visas, and others.
It is essential to note that since this is a residential permit, not a tourist visa, a substantial portion of the application process transpires within Indonesia. Thus, securing a sponsor, typically your employer, is imperative to facilitate the application process.
Understanding KITAS in Indonesia
Kartu Izin Tinggal Terbatas (KITAS) represents a limited stay permit issued to foreigners and expatriates upon arrival in Indonesia.
Holders of KITAS are entitled to reside in Indonesia for a duration that spans from 6 months to potentially 24 months or more, contingent upon extension applications.
KITAS is extended to various categories of foreigners, encompassing investors (PMA owners), experts, legally wedded spouses of Indonesians and their children, researchers, dependents of KITAS holders (spouse and children), children of KITAS holders born in Indonesia, as well as retired foreign citizens.
Individuals often enter Indonesia for one of five common purposes, namely:
Employment

Investment

Marriage

Retirement

Educational pursuits
KITAS is issued to the following categories of individuals:
Foreign investors (PMA owners)

Foreign professionals working in Indonesia within their respective domains of expertise

Foreign nationals who are legally wedded to Indonesian citizens

Children of foreigners born to legally wedded Indonesian citizens

Foreign researchers

Dependents of KITAS holders (spouse and children)

Children of KITAS holders born in Indonesia

Retired foreign citizens
Learn more about Guide to the Indonesia Business Visa for Foreigners 2023
Types of Indonesian Residence Permits
Before you can obtain a KITAS in Indonesia, you must secure a VITAS and an ITAS.
While these terms may seem quite similar and potentially confusing, there exists a clear and logical distinction between them:
VITAS stands for Visa Izin Tinggal Terbatas

, signifying a Temporary/Limited Stay Permit Visa. The VITAS is the document you will acquire from the Indonesian Embassy/Consulate, with the approval of the Indonesian Immigration Department, before your arrival in Indonesia.

ITAS, on the other hand, stands for Izin Tinggal Terbatas

, translating to Temporary Stay Permit. Essentially, it represents your immigration status. The Indonesian Immigration Offices stamp your passport annually to indicate your temporary resident status.

KITAS pertains to the Temporary Stay Permit Card

, which you will only receive once the Indonesian Immigration grants you an ITAS. Essentially, it functions as an identification card signifying your ITAS (temporary) immigration status.
KITAS for Working in Indonesia
While the commonly used term is KITAS/ITAS, the official denomination for an Indonesian Temporary Expatriate Work Permit is referred to as an RPTKA (Rencana Penggunaan Tenaga Kerja Asing).
It's important to note that an ITAS represents a stay permit. For foreigners working in Indonesia, it's crucial to understand that an RPTKA and a KITAS/ITAS are distinct permits that necessitate separate applications.
To apply for a Work KITAS/ITAS, you require sponsorship from your employer, who must be a registered company in Indonesia. In Indonesia, locally registered companies are categorized as PT, PT PMA, or a representative office.
A work KITAS/ITAS also grants multiple entries and exits from Indonesia with a single permit, often referred to as a MERP (Multiple Exit and Re-entry Permit).
→ A Smooth Approach to Acquiring KITAS & Work Permit in Indonesia
KITAS Marriage/Family Visa
Foreigners legally married to Indonesian citizens can be sponsored by their spouses to obtain a KITAS/ITAS family visa. It's imperative to clarify that this is not an Indonesian working visa. It allows you to reside in Indonesia but prohibits employment.
For this application, an official marriage certificate endorsed by the Indonesian government is mandatory. In case your marriage took place abroad, an Indonesian-legalised CNI (Certificate of No Impediment to Marriage), translated into Indonesian, is necessary.
Following a two-year marriage, you can proceed to apply for a permanent residence visa (KITAP) in Indonesia. The KITAP is valid for five years and comes with a MERP (multiple exits and re-entry permit).
KITAS Retirement Visa
This visa category is irrelevant for business owners or entrepreneurs. However, if you are 55 years of age or older and wish to spend your retirement years in Indonesia, you can initially enter the country on a tourist visa and then apply for a retirement ITAS after a month.
With a retirement KITAS/ITAS, you can reside in Indonesia for consecutive years, enjoy unrestricted entries and exits, establish a local bank account, and hire a driver or domestic helper. It's essential to note that any form of employment within Indonesia is not permitted in this scenario.
Student Visa KITAS
The Student Visa KITAS is granted to international students seeking to pursue their education at an Indonesian academic institution. It remains valid for a year and necessitates renewal throughout your study period.
Holders of this visa category are not authorized to engage in employment.
→ Customize Your Visa & Formalities Needs!
Digital Nomad Visa KITAS
Whether you are a foreign freelance remote worker, entrepreneur, or self-employed professional aspiring to embrace the digital nomad lifestyle in Indonesia, obtaining the Digital Nomad Visa KITAS is a prerequisite.
The Work KITAS Application Process in Indonesia
One of the most commonly sought-after types of KITAS in Indonesia is the Work KITAS, which permits foreigners to enter Indonesia for employment purposes.
The process of applying for a work KITAS is outlined below, along with the responsible parties for each step.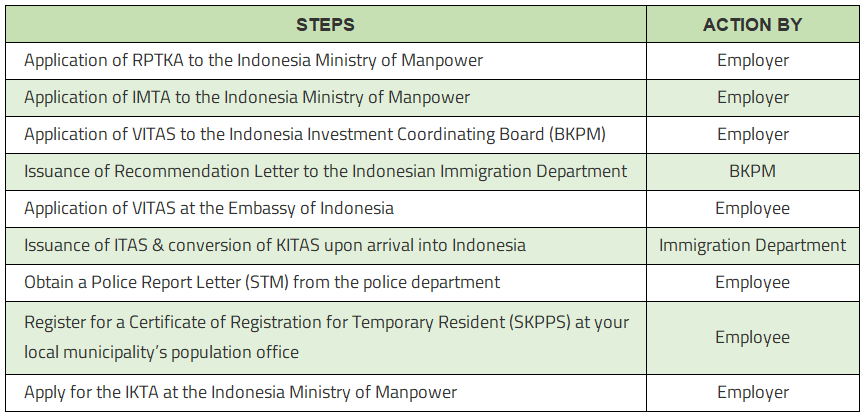 Typically, the entire KITAS application process spans 6-10 weeks. However, the timeline may vary depending on individual cases and can be extended if there is a high volume of applications.
Applying for a work KITAS can be a complex and time-consuming procedure, particularly for foreign business owners seeking to establish their private limited (PT PMA) company in Indonesia. This is due to the fact that most of the process is conducted and documented in the local language, Bahasa Indonesia.
Learn more about Work Permit in Indonesia: Essential Formalities You Need to Know
Essential Documents for Work KITAS Application
To initiate your Work KITAS application, you will need a range of essential documents. These documents differ based on whether they are submitted by the employer or the applicant.
For documents submitted by the employer, the list includes:
A copy of the RPTKA.

A copy of the sponsor's identity card (KTP).

A copy of the identity card of a local employee already employed by the company.

Company-related documents such as:

The NPWP tax identification number.

The Business licence (SIUP).

The Capital Registration Licence (SPPMA) issued by BKPM.

The company's registration letter (TDP).

The company's annual reports detailing local and international employee numbers (Wajib Lapor).

The company's certificate of domicile (SKTU).

The company's approval certificates and any relevant permits (SITU & HO).

The authorization of deed establishment (Akta Notaris) by the Department of Justice.

A blank sheet of paper with the company's letterhead.

The company's official stamp.
Read more: Choosing The Right Employer of Record Service in Indonesia
Meanwhile, documents to be provided by the applicant comprise:
A colored copy of your passport with a validity of at least 18 more months.

A colored copy of your resume/CV featuring the company's stamp and signed by the company director.

A colored copy of your university certificate or degree in either English or Bahasa Indonesia, also stamped and signed by the company director.

A work experience certificate (with a minimum of 5 years of experience) related to the job you are applying for.

Proof of an insurance policy issued by an Indonesian insurance company.

Two passport-sized colored photographs.

Valid Indonesian insurance.

Job title description.

Work location details.

Information regarding the nearest Indonesian Embassy or Consulate for visa stamping.
Establishing a Business in Indonesia as an International Worker
A hurdle that often discourages foreign individuals from contemplating the establishment of a company in Indonesia is the stipulated requirement of a 10 billion rupiah paid-up capital.
The positive aspect here is that you are not obligated to inject the entire sum as your initial paid-up capital. Instead, you will outline your plan to invest the 10 billion rupiah within a span of 5 years. This comprehensive strategy will be submitted in a business plan for approval by the relevant regulatory body.
For foreign entrepreneurs aiming to establish a company in Indonesia, the prevailing choice of business entity is typically a private limited company (PT PMA). Nevertheless, if you desire to create a local company (Local PT), it is also a viable option, facilitated by employing a local nominee director.
Learn more about Employer of Record – Complete Guide To Establish Business in Indonesia
Key Takeaways Regarding KITAS in Indonesia
Securing residency status in Indonesia can be a complex and time-consuming procedure, often subject to regulatory adjustments.
To streamline the process, it's advisable to engage the services of an agent, either personally or through your employer, to navigate the paperwork efficiently and avoid unnecessary complications.
Abhitech's Indonesia Work Permit (RPTKA) and Indonesia Working Visa (KITAS/ITAS) services provide you with expert guidance to enhance the likelihood of a successful application.
Abhitech offers comprehensive EOR services in Indonesia, serving as a trusted and experienced formality service provider committed to delivering optimal and efficient services to fulfill your needs for Foreign Work Permits, Visas, KITAS, KITAP, and other immigration-related documents.
Contact Abhitech to secure your work visa & Setup your own Indonesia company with us!
Sumber: