What We Do
Recruitment Service: Hiring generic positions at the mid-level & specialist professional with our large pool of qualified candidates that have the required skills to perform a given task!
Executive Search: We help you recruit senior-level management positions (C-suite, VP, Director, Boards), positions that are hard to find or require a specialized skilled set.
Recruitment Service are the ideal choice for filling:
Mid-level roles

Specialist roles 

Lower-level management roles
Our consultants targeting active candidates
Executive Search Service are the ideal choice for filling:
Senior management and executive roles

Difficult to fill roles

Confidential roles

Niche roles
Our consultants employ proactive search methodologies – targeting passive & active candidates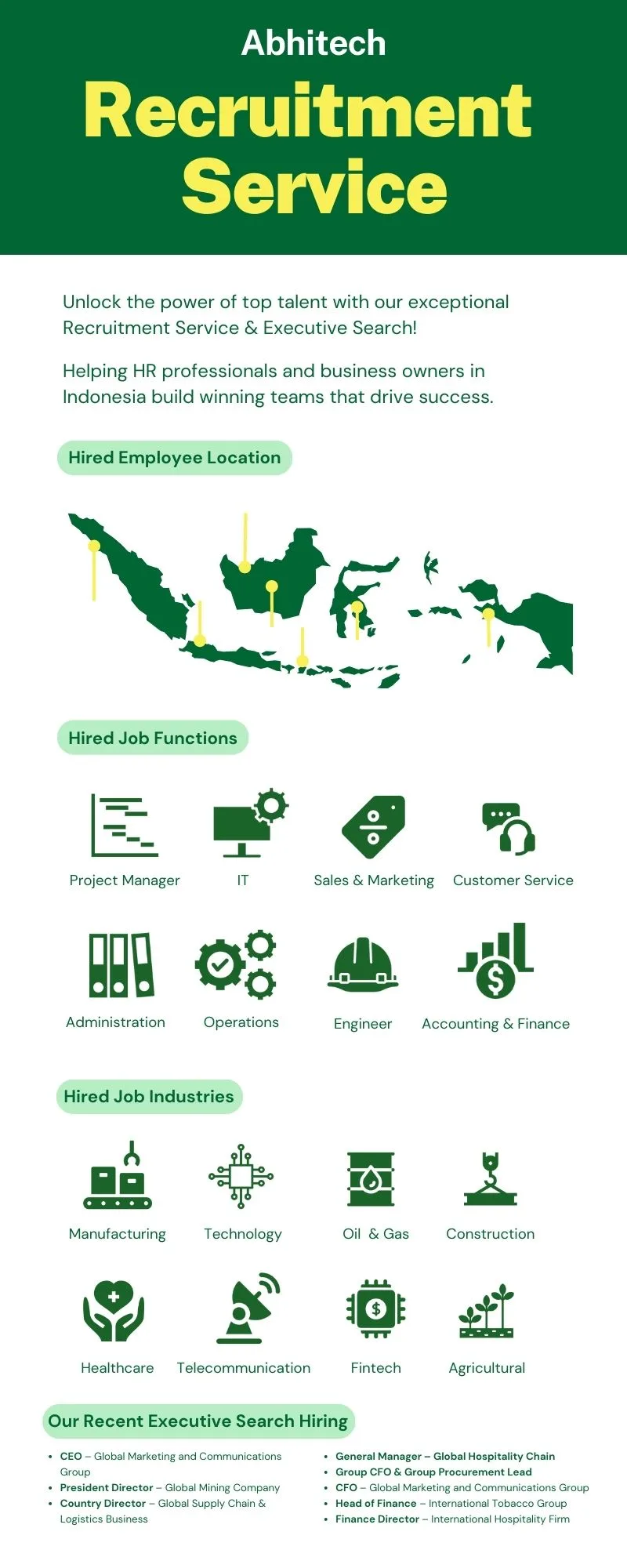 Advantages of Recruitment Service:
Say goodbye to long talent acquisition processes. Recruitment Service is only for HR professionals who want to:
Steamline time-to-hire

: Saves recruitment time >40% so business activities can run without any pauses 

Hiring high quality employees will increase company's productivity.
Build a good quality talent pool:

Reduce the cost and time to hire best candidates in the future with a quality talent pool.

Reduced cost-per-hire:

Reduce the cost per position in recruitment for positions that are relatively easy to find.

Access to additional experts and sourcing

: Get resumes of the best candidates for your position by optimizing untapped sourcing channel

More time to develop talent: With a delegated recruitment process, you can focus on strategy execution to increase employee productivity and skills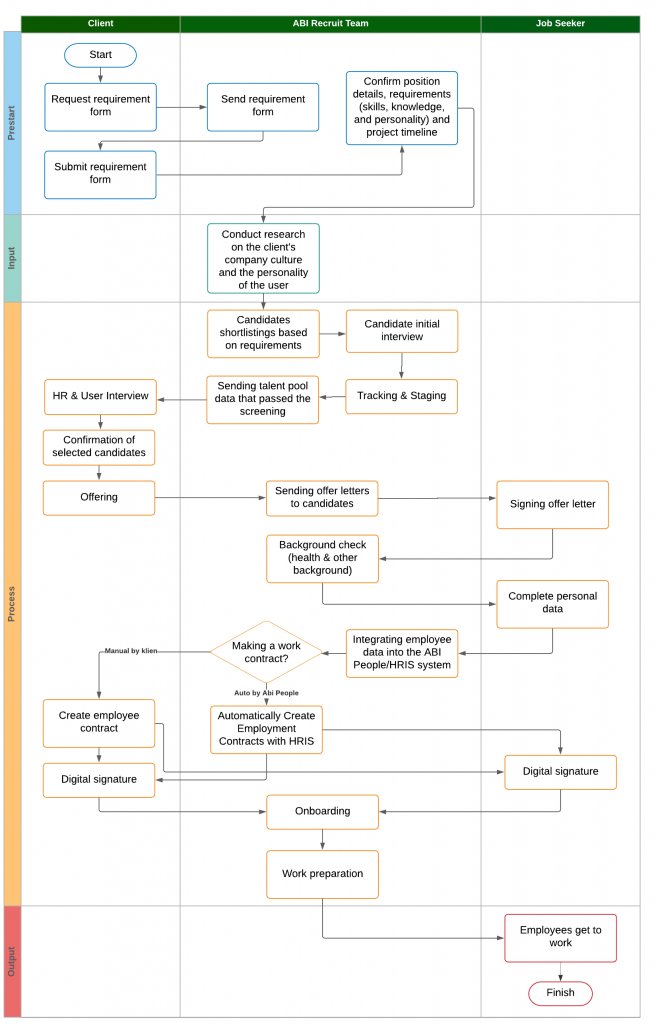 Recruitment Service Features
Full Cycle Recruitment

: Starting from preparation, sourcing, screening, selection, recruitment, and onboarding, Abi Recruit plays a full role in full cycle recruitment to help reduce your burden.

Candidate Sourcing

: Engage future potential talent through talent communities and talent pipelines; and source candidates with multiple sourcing assessments.

Candidate Assessment

: Ensure candidates have the core skills, competencies, and motivators to do the job.

Tracking & Staging:

HR team can easily customize job advertising with online candidate registration and tracking; also beneficial for talent pool for recruitment strategy

Admin & Back Office:

From arranging interviews to compiling offering letters, Abi Recruit takes care of all the admin and back-office work of the recruitment process.

Paperless Onboarding: HR team has an automated offering letter and contract generator with digital formal signature integration; everything is seamless
Our Executive Search recruitment expertise
Our recruitment teams work with companies of all sizes, across a variety of industries to fill executive-level job vacancies. These are some of the roles we have place recently:
CEO – Global Marketing and Communications Group
President Director – Global Mining Company
Country Director – Global Supply Chain & Logistics Business
General Manager – Global Hospitality Chain
Country Manager – International Technology
Group CFO & Group Procurement Lead
CFO – Global Marketing and Communications Group
Head of Finance – International Tobacco Group
Finance Director – International Hospitality Firm
Finance Director – Global Healthcare and Life Sciences
Tax Director & Packaging Director
Regional HR Director – Global Healthcare and Life Sciences
HR Director – Local F&B Company / Global Hospitality Chain
Head of HR – Global Healthcare Insurance
Head of Marketing – International Tobacco Group
Regional Legal Counsel – Global Healthcare and Life Sciences Firm
Head of Legal & Compliance – Global Healthcare Insurance
Reasons to Cooperate with Abhitech
Consultant who has expertise on Recruitment
Abhitech recruitment consultants have been looking for various positions from sales, programmer, to manager positions for multinational companies in Indonesia (Our Client Highlights)
Vast network of sourcing database
Abhitech's recruitment consultant team has various sourcing channels 
Supported by HR System (ABI-RECRUIT)
With Abi Recruit, get all candidate resumes for your company's talent pool. Here you can also track, monitor, send interview schedules or send rejection letters with one click in the system.
Customize Your Recruitment Needs!
Fill out the form and our consultant will contact you within one business day!
Signing up for the form means you agree to the Privacy Policy and Terms of Services
What's Client Love About the Service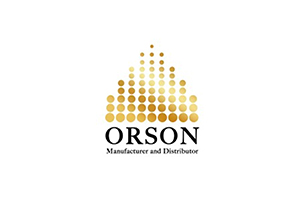 Abhitech's team is incredibly helpful and responsive.
Shaheena Nathani
COO at Orson Indonesia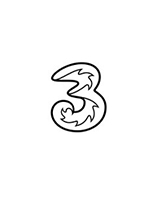 Experience in handling multinational companies, easiness to communicate and problem-solving.
Donna Agatha
DGM HR at Hutchison 3 Indonesia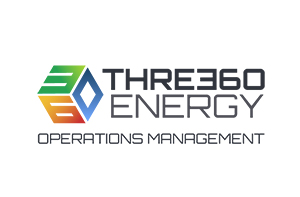 Reliable and credible service
Edwin Soetirto
Country Director & General Manager Indonesia at Three60 Energy