31-10-2023
Indonesia Work Permit Application Process in 2023
In order to work legally in Indonesia, foreign individuals must obtain a work permit.
This article provides a comprehensive guide on how to obtain a work permit for foreign workers and investors intending to reside in Indonesia.
The procedures discussed are in accordance with the Work Permit Regulation (No. 16/2015) and its October 2015 update (No. 35/2015), as well as the latest Presidential Regulation (No. 20/2018) regarding the Employment of Foreign Workers.
Requirements for Work Permit in Indonesia
Let's begin by clarifying some commonly used terms among the expatriate community in Indonesia:
KITAS: Most foreign residents in Indonesia refer to their stay permit as KITAS. However, it's important to note that this term is a legacy one, as foreign residents no longer receive a physical card for their work permit.
Work Permit (IMTA): Before 2018, companies were required to apply for a work permit first and then apply for the stay permit (VITAS or E-ITAS). This process has since been streamlined.
Re-entry permit (MERP): Until 2018, a separate application for a re-entry permit was necessary to exit and re-enter Indonesia. This is no longer a mandatory step.
To acquire a work permit, a foreign individual must first secure employment with a registered company in Indonesia. It's important to note that not all companies are permitted to employ foreign workers.
Company requirements to be able to give work permits to their foreign workers
Companies seeking to employ foreign workers in Indonesia must meet specific criteria:
Sufficient Capital: The company should be registered as a PT PMA (with a minimum capital of at least 10 billion Indonesian Rupiah) or a wholly locally-owned entity with a capital of at least one billion Indonesian Rupiah.
Designated Indonesian Co-Worker: Each foreign worker must be assigned an Indonesian national to serve as their designated "co-worker."
Permissible Job Title: Certain positions are restricted to foreign nationals in Indonesia. A list of permitted positions can be found here.
Moreover, the company must ensure the submission of the Manpower Report (WLTK or Wajib Lapor Ketenagakerjaan/), a mandatory requirement, even when the company does not intend to hire foreign employees. Without this report, applications for work permits will not be processed.
Minimum Qualifications for Foreigners to Qualify for Work Permit
The fundamental criteria for an employee to be employed in Indonesia encompass the following:
A Bachelor's Degree or Higher.
For roles necessitating specialized education, a relevant degree (e.g., in education or engineering).
A letter of recommendation from a previous employer, affirming a minimum of five years of work experience.
Verification of comprehensive health and life insurance coverage throughout the stay in Indonesia.
Evidence confirming that the employee holds health and life insurance.
Permissible Job Titles for Foreigner in Indonesia
Foreign nationals in Indonesia are eligible for work permits for various job titles, provided that these titles are not under any specific restrictions. However, foreign nationals are not authorized to hold positions related to human resources, legal services, and the medical industry.
It is worth noting that the general requirements for work permits do not stipulate any age limitations.
Duration of Work Permit Validity
The validity of a work permit typically ranges from 6 to 12 months, contingent upon the job position applied for. In cases of a 12-month work permit, extensions are possible.
Local Co-worker Requirement
For every foreign worker in Indonesia, it is mandatory to have at least one local co-worker who holds a job title relevant to the foreigner's position.
However, there is no obligation for the company to assign Indonesian co-workers for the following positions:
Director
Commissioner
Founder of a foundation (Anggota pembina yayasan)
Member of a management of a foundation (Anggota pengurus yayasan)
Supervisor of a foundation (Anggota pengawas yayasan)
Even though these positions do not require a locally relevant co-worker, they should be endorsed by an Indonesian citizen who takes responsibility for any misconduct that might be caused by the foreign worker.
The Procedure for Obtaining a Work Permit in Indonesia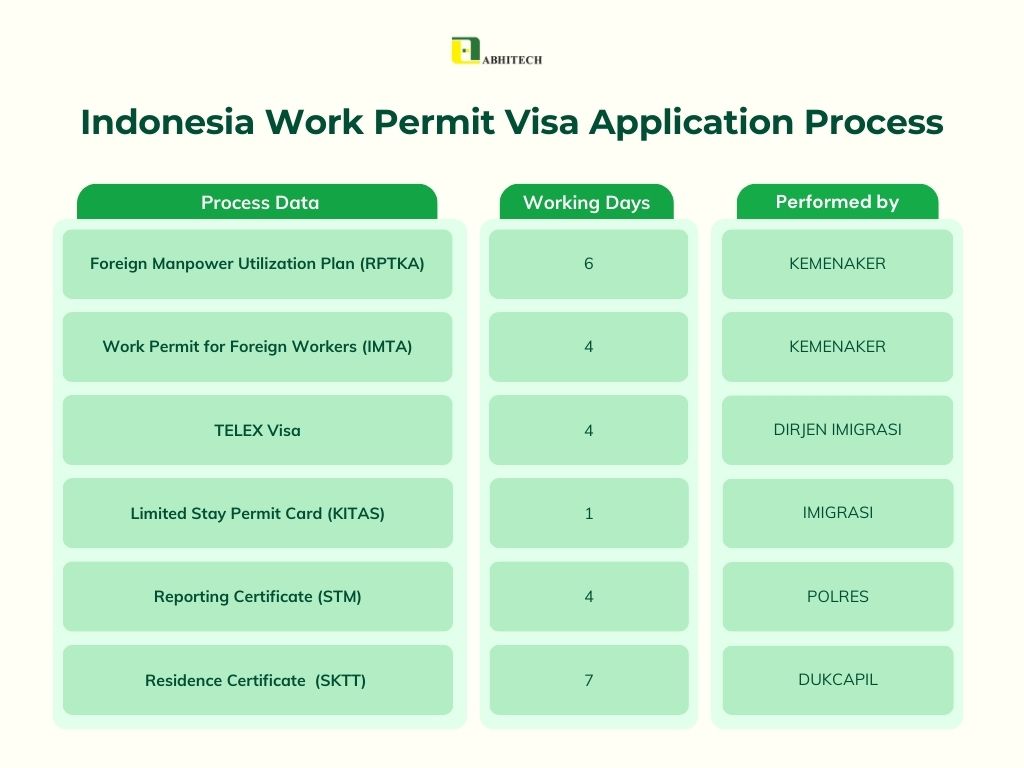 Total Duration: 30 working days
Typically, the process of securing a work permit in Indonesia spans approximately one month.
Foreign Workforce Deployment Plan (RPTKA)
An application that delineates the names of foreign employees to be hired and their respective positions.
Employee Development Fund (DPK-TPA) Payment
The DPK-TPA serves as an upfront tax, remitted to the government for the employment of foreign staff. This fee amounts to $100 per month and must be pre-paid for the entire tenure of the work permit, which equates to $600 for a six-month work permit or $1200 for a one-year work permit.
Authorization for Stay Permit Notification / Telex
The endorsement is dispatched to the chosen foreign worker's embassy. It must be exchanged for an actual stay visa at the embassy before entering Indonesia.
E-ITAS/ Limited Stay Permit
The Limited Stay Permit, often referred to as KITAS by foreign nationals, is granted once the foreign worker has arrived in Indonesia and had their biometric information recorded either at the border or the local Immigration Office.
Civil Registration
Recording the foreign worker's place of residence with the local administrative office.
Extending Work Permit
During this process, the worker is not required to leave Indonesia. Nevertheless, it is highly advisable to initiate preparations for the extension procedure at least three months prior to the work permit's expiration date.
In Conclusion
Comprehending work permits in Indonesia and the prerequisites for obtaining them, along with the intricacies of the employer company and the procedure for acquiring a Work Permit and Kitas, is vital.
Meeting the necessary criteria for expatriates and understanding the intricacies of the Work Permit and Kitas application process can be immensely beneficial.
Should you encounter challenges or lack knowledge during the Work Permit and Foreign Worker Visa application process, do not hesitate to reach out to Abhitech.
Abhitech offers comprehensive EOR services in Indonesia, serving as a trusted and experienced formality service provider committed to delivering optimal and efficient services to fulfill your needs for Foreign Work Permits, Visas, KITAS, KITAP, and other immigration-related documents.
Contact Abhitech to secure your work visa & Setup your own Indonesia company with us!